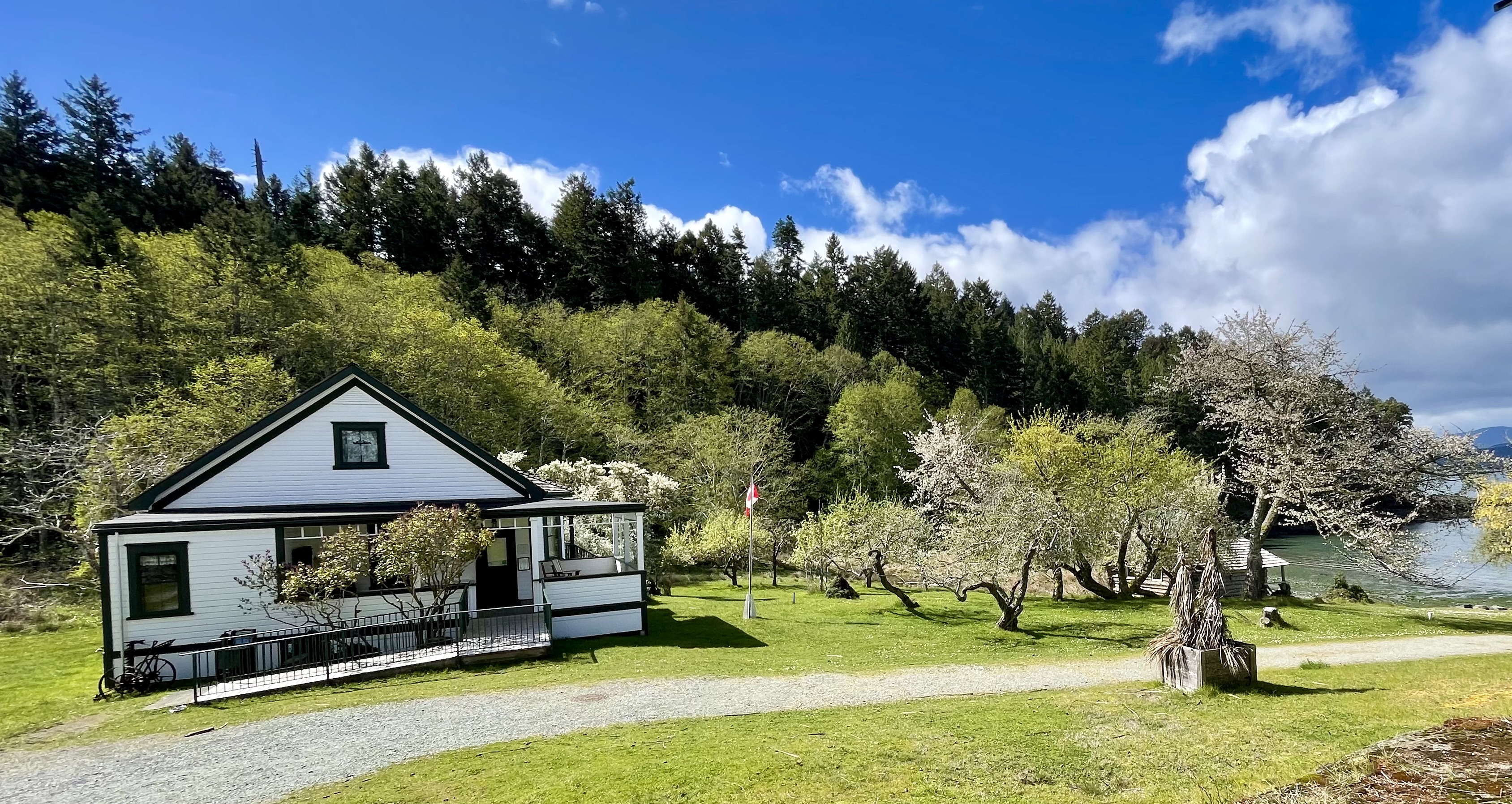 Pender Islands Museum and its beautiful location.
Our vision is to be a "great little museum" that serves our vibrant island community and its many visitors by telling local stories that connect past and present. We do this by preserving and interpreting and historic farm-resort homestead and our collection of local artifacts and archives. The museum building—a 1908 farm-resort homestead—is leased from Parks Canada and surrounded by the beautiful Gulf Islands National Park Reserve. 
The Pender Islands Museum Society, established in 1986, operates the museum. For almost 20 years, the society worked to preserve heritage resources while seeking a permanent home. In 2003 the society accepted an offer from Parks Canada to lease the old Roe House. It took two years of tremendous volunteer support to rescue the building from near-collapse and restore it for public use. The dream for a permanent museum became reality at its official opening on July 16, 2005.
Learn more about our vision & mission 
Roesland

Roesland, Pender Island
The museum is located in the Roe House, which is part of an original Pender homestead. Robert and Margaret Roe, three sons and one daughter emigrated from Scotland to Victoria, BC in 1896 and came to Pender a few years later. In 1906 they bought over 600 acres of virgin land on Otter Bay and began the hard work of clearing 30 acres for their farm, which they named Roesland. Bert Roe remembered years later that at the age of 12:
We had to fight our way ashore through the interlocking branches of the trees.
The family built their permanent home in 1908, a "kit" house ordered from a Vancouver Island lumber company. All the pre-cut lumber was delivered to Roesland by barge and put together on its log base in about a week. Total cost for the three-bedroom house: $538.66. 
In 1912, the Roes casually rented out their original cabin to vacationers. Its popularity suggested a new business venture. By 1917, Roesland was billing itself as a farm-resort, eventually expanding to some 15 cottages under the banner of Roesland Resort. Many families returned year after year.
Bert and his wife Irene married in 1927 and built their own home on the property. (It had to be demolished in 2003.) They expanded and diversified the farm and resort business, and by 1935, the farmhouse had become a hall for guests to enjoy games, music and reading. In 1971, the property was sold to David and Florence Davidson. They continued the warm, hospitable and family nature of the resort until it closed in 1991. Roesland was transferred to the Gulf Islands National Park Reserve lands in 2003.
Pender Island

Pender Islands Aerial View
Pender Island is one of BC's Southern Gulf Islands, located in the Salish Sea between the mainland and Vancouver Island. The islands are home to about 2,500 permanent residents as well as regular weekenders and a large seasonal population. The islands' are known for their beauty, unique natural environment and community spirit. For more information about our beautiful island please visit our Pender Island Chamber website.